Air-con belt
Gates Micro-V 58374
P/N: 5PK 1113 (Quote this to you motor factors)
Approx £8 +VAT
Air-con belt tensioner
The AJPV8 Air/Con belt tensioner is a Vauxhall 2.0 16v cambelt pulley
Less than £30 from any factor.
Part numbers:
VKM25211
U443
03.135
F-209940.3
F-220276
532003510
IR-9876
QTT168
55304
029-208361 (from a Vauxhall Vectra)
Air-con radiator
Hella make the aicon condenser (radiator) for approx £135 plus VAT
Air Vents
Available from SPLAutomotive
Alternator
From a Landrover 3.9 V8 petrol. not got any part numbers though and I think it costs around £150
Alternator Drive Belt
4.2 (1998) takes a 10PJ432 - that's a standard number for a 432mm polyvee belt with 10x 'J' profile ribs, so any belt supplier will recognise it. Mine is made by Hutchinson. Not saying you'll find it in Halfrauds... try an industrial bearing/belting etc supplier.
AP Calliper Bleed Nipples
M10 x 1mm BLEED SCREWS FOR BRAKE CALIPERS AND WHEEL CYLINDERS INCLUDING THE EVER POPULAR PRINCESS 4 POT UNITS AND THE ESCORT CAPRI M16 TYPE CALIPERS - OVERALL LENGTH 30mm, FROM TIP TO UNDERSIDE OF HEX 20mm - eBay
AP Callipers
Front brake callipers are CP5200-802 and CP5200-803 [4.5] and are for 330x32mm (max diameter). Rear brake callipers are CP5211-22SO and CP5211-23SO [4.5] and are for 306x29mm (max diameter). Some Cerbera have front calipers with only 4 bolts like the CP5100 family with smaller discs (4.2 291mm front). Some 5.4 have smaller front discs 322x30mm
AP Calliper pistons and seal kits (4.2)
Here are some brake bits, basically overhaul kit for standard 4.2 AP Racing callipers, I know some codes have been posted before, but I thought I'd add these as basically the J or K suffix is the size, so you can order a combination to make up the number of seals you need. Each piston has 2 seals, so front is 4 piston, 2 x 1 5/8" pistons and 2 x 1 1/5"pistons and rear is 2 piston 2 x 1 1/5"piston. And a seal kit, is per calliper.

Description: Brake seal kits Details: AP Racing CP4519-K 1 5/8"Unit cost: £8.24 No. required: 2 Total: £16.48

Description: Brake seal kits Details: AP Racing CP4519-JJ 1 1/5"Unit cost: £13.43 No. required: 2 Total: £26.86

Description: Brake Bleed screws Details: AP Racing CP3720-173 Unit cost: £2.47 No. required: 8 Total: £19.76

Description: Brake fluid Details: AP Racing CP4510-20 Dot 5.1, 500ml Unit cost: £4.52

All the above were supplied byBG Developments orShop4Brakes, 01527 873716 and were delivered on an overnight courier, excellent service
AP Calliper pistons and seal kits (4.5)
Cerbera 4.5 with CP5200 fronts and CP5211 rears, which seems to be most of them:
Available from any AP dealer or possibly direct from AP.
Front Callipers

CP2889-105 1.5" Pistons @ £9.69 + VAT each

CP3357-111 1.625" Pistons @ £10.55 + VAT each

CP4519-JK Seal Kit @ £11.43 + VAT per calliper

Rear Callipers

CP2260-66 1.5" Pistons @ £11.74 + VAT each

CP4519-J Seal Kit @ £7.01 + VAT per calliper
Ball Joint (lower)
The Delphi TC936 fits perfectly. On my late car it doesn't require any modifications to fit. The Quinton Hazel: QSJ1308S one I have made by Hi-drive won't fit because the ball is larger as is the rubber boot which is impossible to fit onto the wish bone as its much wider than the hole.
Boot lock actuator
Abacus Alarms £16ish
Brake Fluid Reservoir
Ford Escort Mk2
Brake master cylinder
Ford Fiesta XR2 or 1.6i Ghia - check the bore diameter as there were two types used. The one you need for the 4.2 Cerbera is the larger, which is 22mm
Catalytic converters
www.bmcatalysts.co.uk
They are avail from eurocarparts at a very good price. they do ceramic and steel versions of the cat for when you need an MOT
Central Locking Motors
Maplin part number : YD79L (2 wire) or YD78K (5 wire)
http://www.maplin.co.uk/module.aspx?ModuleNo=12304&doy=14m6
Clutch Master Cylinder
Genric to quite a few vehicles however landrover series three etc etc fits, you just need an adaptor to step up to 7/16 unf for copper pipe and also change the push rod off old cylinder. stock o/e cylinder £30.00 or cheaper (and avoid the brit parts one as apparently they are not much good)
Coil Packs
1996 Citroen ZX 1.6i [Citroen ZX 1.4/1.6/1.8/2.0 MULTIPOINT INJ] (2 required)
Euro Car Parts part number : 413545061
German, Swedish & French part number : N92512, Website number is 925PC0090
£30 inc. VAT @ 20%
Coil Packs AJP 4.5
German Swedish & French Part number has changed to 925PC009.
Cooling system thermostat
Lancia delta Quinton Hazell part no QTH221.

Cross Interchangeable Parts


| | |
| --- | --- |
| Factory | Number |
| BGA | CT5089 |
| DITAS | DT1002 |
| GATES | TH11987 |
| TRISCAN | 8620 4185 |
| LANCIA | 4 440 367 |
| WAHLER | 3351.85 |
Crank sensor (SP6 & AJPV8)
Ford number 6859701
CV Boots
First Line reference : FCB2196. Alternative Bailcast DBSR100, around £15 for two - fits perfectly, good quality and keeps out dust and water
CV Joints
CV Boots, FCB2196 are £5.36 from RoadRunner and if you need the joints themselves they are only £44 from Prolinx. CV Joints - GKN301174 (marked for BMW on box) purchased from Prolinx
Door catch
The door catch is from a Vauxhall Astra but with an extra bracket on it from tvr. I get them from my local Vauxhall dealer and un pick the bracket and transfer it over. Just give them the part number on it and they will be able to match it up for you.
Door opener solenoid
Made by Spal :www.in-car-stuff.com/shop/product_info.php/cPath/21_51/products_id/42
Door proximity switch (magnetic)
RS Components, and part no. 455-3744, this switch can be NC or NO, TVR use Normally closed circuit, so ignore the green wire and just use the white (common) and the brown. They are £6.72 + VAT each.
Door window drop switch
RS Components part no. 320-512 - Microswitch IP67 sealed V4 lever (Waterproof, Made in Germany by Cherry - Mf. part no. DC1C-C3LC). Only the Blue and Black wires are used as TVR use closed positive so the Grey wire can be cut/sealed. The throw of the close lever is smaller than that of the original so you need some washer spacers to lift the steel mounting bracket a millimeter or two away from the door frame. Also the throw on the switch is metal, so to avoid scratching the window I added a later of insulation tape cut to size to cover the top.
Drive shaft gaiters
Ford Granada - Approx £4 from a Ford dealer
Electric power steering pump
If power steering fails, a substitute electric pump can be used from a Citroen Saxo. Apparently the hoses fit perfectly. The Tuscan & T350 use this too. The pump takes about 30A so substantial wiring and relay are required. This modification can be a cheaper alternative fix if the woodruff key on the pump drive shaft breaks (a known problem with pre-98 cars). Replacing the woodruff key and/or shaft means engine removal... Thanks to Jools for his wisdom on this !
Engine air temp sensor
Intermotor 55701 (from most motor factors - £21)
Exhaust back box rubber mounts
Bosal 255-593 from most motor factors, or EXH 005 from Powerflex
Expansion Tank
euro carparts 205440130 please note there is no cap..
Expansion Tank Cap
VW part # V443 121 321 "K41C Cover", also from German, Swedish, French (GSF) 174VG0130. £3 inc Vat
Front anti roll bar bushes
Ford part number : 1632605 (£7.13 a pair)
Front Brake Pads
Mintex 1155 : MDB1292
Front Brake Pads (EBC)
Original quality pad (Greenstuff) : DP2002 (£45)
Upgrade quality pad (Greenstuff) : DP3002C (£55)
http://www.ebcbrakesdirect.com/car/parts_pad.asp?part=pad&make=TVR&model=Cerbera&year=4%2E2+%2894%2D%29#
Front Brake Pads (when using Tuscan S discs)
Ferodo DS2500
Front indicators (under headlights)
From a Challenger tank or for clear ones, reversing lights from military Landrover
http://www.crookbrothers.co.uk
Front lower ball joint
Jag items, as used on the XJ6, amongst others, part no.: CAC9937 and Quinton Hazel: QSJ1308S
You do need to 'modify' the new item.
To clear the welds on the wishbone, the edges of the flange on the ball joint are ground away at an angle. here are a couple of pics:
Original Ball joint, note chamfer:


New Ball joint as you buy it:


Modified flange to clear welds on wishbone: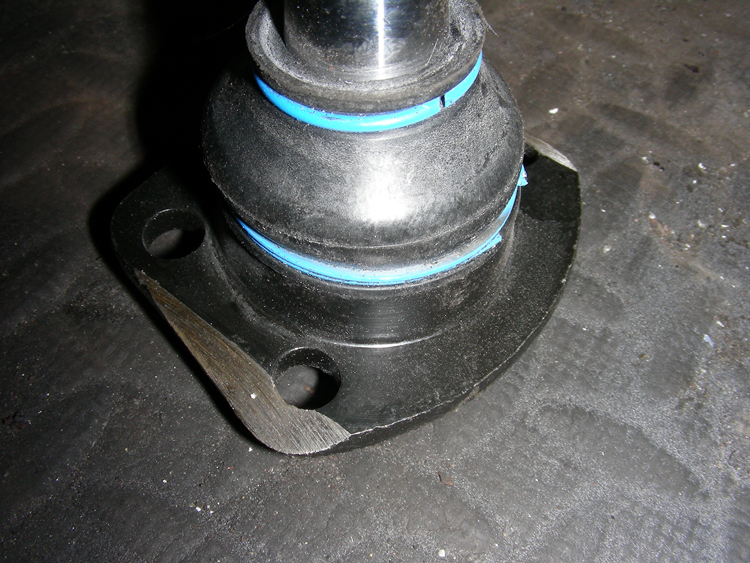 Prices range from £21 a pair to £30 each.

[update] EuroCarParts #617630455 Lemforder Ball Joint (Front Axle; Front Left or Right Lower; Left and right; Lower) Jaguar XJS 3.6 1984, £35.99, Thread size 9/16
Front upper ball joints
Front upper ball joints

Saab
99 74-84
90 84-85
900 79

Veco ball joints, part no VBO26


Upper Front ball joint Saab 99/900 Elkparts 0870 750 1428 www.elkparts.com £11.37 ea. Apparently, www.elkparts.com is no longer trading. However, it looks as though an equivalent part number from GH for these things is RC492108P. Saab 900 2.0 1984 Part Number: 617880135
Fuel Filter
Coopers part number FIG 7003 (also fits some BMWs & Porsches)
or Bosch part no: 0450-905-084 or 957
or FRAM G3831

Note : when fitting the fuel filter the bolt holding it in place will most likely be rusted and have to be cut out so it's a good idea to have an M8 x 50mm stainless steel bolt, 2 x M8 stainless steel washers and an M8 Nyloc nut on hand.
Additional suggestion that Fuel Filter is from any 928 V8, Mahle Eurocarparts number 503330035
Fuel Pump (4.2 Cerb)
Bosch 0 580 254 957. 128 litres per hour at 5 bar. Abailable from http://www.fuelpumpsonline.co.uk/bosch-fuel-pump-0580254957---walbro-external-replacement-pump-409-p.asp
Fuel tank breather/rollover valve
Ford Part No.
91 AB-9A 153-AA BZ 02 A

Priced at £22 + VAT

(Part no. taken from a 96 4.2)
Gearbox mounts
£7 each inc shippinng. L&S Part No. VM4A, Dia: 50mm X Deep 35mm, Stud Size: M10 x 25mm - [email protected] or by phone on 01543 378189
Headlamp
Bosch : LENS = 1.305604027 (TVR PART M0434)
REFLECTOR = 1.305314930
HT Leads
Magnecor 8.5mm : 8522
Indicator contact switch
The one that makes the clicking sound when you click the indicators up or down £1.95 from maplins
Injectors
AJP 4.2 = Bosch 280150744, AJP 4.5 = Lucas, disk type injector 185 cc/min @ 2.5 Bar, High impedance (14.5 Ohms)
Injector O rings (4.5)
Get them from any pug or Citroen dealer. £2
or from a Ford Granada/Scorpio
Inside Door Switches
RS Components Stock no: 301-5235 and made by German company Schurter
Lambda Sensor
Intermotor part number : 16339
or :www.gendan.co.uk/oxygen_lambda_sensors_TVR.html
Also Land rover part number ERR 6729, available from LRDirect
Also LB1105 but said to be more expensive than ERR 6729, available from Gendan
Map Sensor
intermotor part number 16800 http://partfinder.smpeurope.com/index.html?p=156&a...
Number plate lamps
Metrocab Taxi ones or www.btowstore.com. Rear number plate lights and Triumph Stag (II) - available on eBay
Oil Cooler
Serck Speed 7019937 (216mm 19 row 5/8 BSP male connections.)
http://www.thinkauto.com/index.html
Oil Filter
Land Rover part number : ERR 3340 (approx £6)
Champion part number : C145 (approx £3)
WIX filter is WL-7117
Oil pressure switch
Intermotor part no. 50600
Outside door button/switches
RS Components Stock no: 321-278
Oxygen Sensor
Land Rover part number : ERR 6729
Petrol cap cork seal
Same as that used on old Triumph motorcycles. It's a 2½"cork seal.

Part No is 82-4048 and they can be bought fromwww.btinternet.com/~hawkshaw.motorcycles/triumph8.html
Power Steering rack
www.power-steering.co.uk will do a full overhaul on Cerbera racks, with warranty, for £115
Radiator cotton reels
Rover Mini Exhaust mounts from 1990 onwards.

Halfords new price is about £1.60 including the nuts, however they are not a perfect fit. Fine for the drivers side, but slightly too large diameter for the passenger side. Selection of alternatives here.
Read anti roll drop link bushes
Vauxhall / opel FRONT STABILIZER BUSH - GM Part Nr: 2875013N less than 1 GBP. Link to Vauxhall Car Parts
Rear Brake Pads
Mintex 1155 : MLB20
Rear Brake Pads (EBC)
Original quality pad (Greenstuff) : DP2102 (£30)
Upgrade quality pad (Greenstuff) : DP3102C (£38)
http://www.ebcbrakesdirect.com/car/parts_pad.asp?part=pad&make=TVR&model=Cerbera&year=4%2E2+%2894%2D%29#
Rear brake shoes (Handbrake)
Peugeot 605 (91-98)
Ferodo Part number is FSB425
APEC Braking part number SHU-482 (fitting kit : APEC part number 766.)
Alternative fittings kit is the Quinten Hazell one BFK-351
Rear exhaust box (standard)
Manufactured by magnex and you can buy direct
Rear exhaust mount
Ford
Rear lamps on early cars
Ford Fiesta Mk3
Rear view mirror
Part Number for rear view mirror is CTB 1070 (or Rover 200, 400 & 600)
Seat Belt Extensions
Vauxhall Tigra or Calibra. Part number for all 3 bits are
90046083 pulley guide £7.85
90046084 pulley head-guide £2.00
90046085 insert-guide pulley £2.14
Seat Belt Holder
You know the 6" piece of black plastic that holds the seat belt out so it comes down over your shoulder, not around your neck.

It's a Vauxhall part, or parts (three of them) : 90046083,90046084 and I assume the other bit is either xx82 or xxx85 - I've used that one and thrown the packet away. Cost around 12 quid for all three bits.
seat belt extensions are for a vauxhall tigra or calibra
part numbers for all 3 bits are 90046083 pulley guide £7.85
90046084 pulley head-guide £2.00
90046085 insert-guide pulley £2.14
Shaped LEDs next to the Window Buttons
RS Stock No.229-2431 - http://uk.rs-online.com/web/p/visible-led/2292431/
Side indicator repeaters
Mk3 Ford Fiesta (mid 90's)
Spark Plugs (Speed 6)
NGK DCPR8E
Speed sensor (speedometer)
TVR Part number M0631
Starter Motor (V8)
Part # : Hella. JS754. Not checked though.
Nissan Maxima (3.0 Inj Auto 1988-1994)

If this helps too. The supplier for the ADN 11248 is ADL (01622 833007). They cant sell you one, but they can tell you a local shop.
Starter Motor (Speed 6)
Bosch 0 001 108 063 and BMW 1 312 104 8. (3 series)
Available from Euro Car Parts description BMW E30 86-91,
Part No.402110081 [said to be not powerful enough as only 1.2Kw and the SP6 needs 1.5Kw]
Alternatives also available from AMP Staters and Rally Design
Steering input shaft inner oil seal
Size 27/37/7 (£2.35)
Steering input shaft outer oil seal
B.S.L. number : DIN3760 R 23 (£1.70)
Steering rack Gaitor
1995 Ford granada or Quinton Hazell Pt no QG 2300 or Quinten Hazell QG1062 which is equivalent to SRG809 apparently. AMK Automotive Components "TSG23" from Lloyds seems to be a perfect fit. I do not recommend ECP Part #612590191, this does not fit at all.
Steering rack top oil seal
30 x 20 x 7
Stub axle
Stub axle part numbers are as follows, not alternative but may help you find cheaper ones if you need them. Nearside V86BB-4K137-AA, Offside V86BB-4363-AA
Sump plug washer
17mm copper washer
Thermostat
Quetin Hazel QTH134. Fits: Fits:Fiat, 131 1.3, 1.4, 1.6 1975-84, 132 1.6 1974-77, 132 1.8 1972-77, 132 2.0 1972-76, Argenta 1.6, 2.0 1982-84, Ritmo 125TC 1.6 1984 -, Strada 125TC 1.6 1984-88, Morgan, 4/4 1.6 1982 -, Plus 4 1.6 1982 -, Seat, 124 1.6 Sport Coupe 1970-74, 131 1.6 1976-81, 132 1.6, 1.8 1972-75, 132 2.0 1977-82. Original TVR ones were Wahler/QTH 221 which have a 85oC opening temperature versus 78oC for the QTH134. I think the other difference between the 2 is the angle between the Top radiator hose, and by pass hose outlets:- QTH 134 it is 90 degrees, QTH 221 it is more like 135 degrees.

QTH134 comparison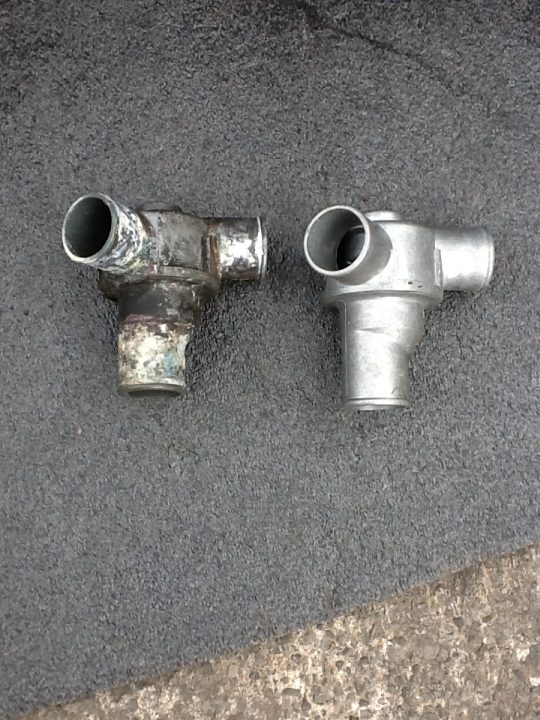 Throttle Linkage ball joints
From : www.ondrives.com - part number RAS5 & RAS5L
Throttle Body to Inlet Port O Rings 4.5L
part number BS031N70 44.17mm x 1.78mm £7 for 20, minimum £10 spend, but still a good saving. Available from http://www.polymax.co.uk/
Throttle heat barrier "O" rings
www.polymax.co.uk part number BS031N70 44.17mm ID x 1.78 cord
Throttle Pots (4.2 - White)
TVR Part number E2936 (previously known as Ford part no : 1K15A or E1586, but not known by Ford anymore ?). 4.2 throttle pots are the same as rover 200/25 mg zr. Throttle Position Sensor MG Rover MHB101440 SLD100080, about £25 from eBay. Intermotor Part Number 19935. Equivalent parts: MJC100021, MHB101440, SLD10080. Rover: 25, 45, 75, 200, 400, 600, 800, MG: MGF, ZR, ZS, ZR, ZT-T, TF, Ford: Granada Mk3, Scorpio Mk2, Sierra, Transit Mk5, Landrover: Freelander Mk1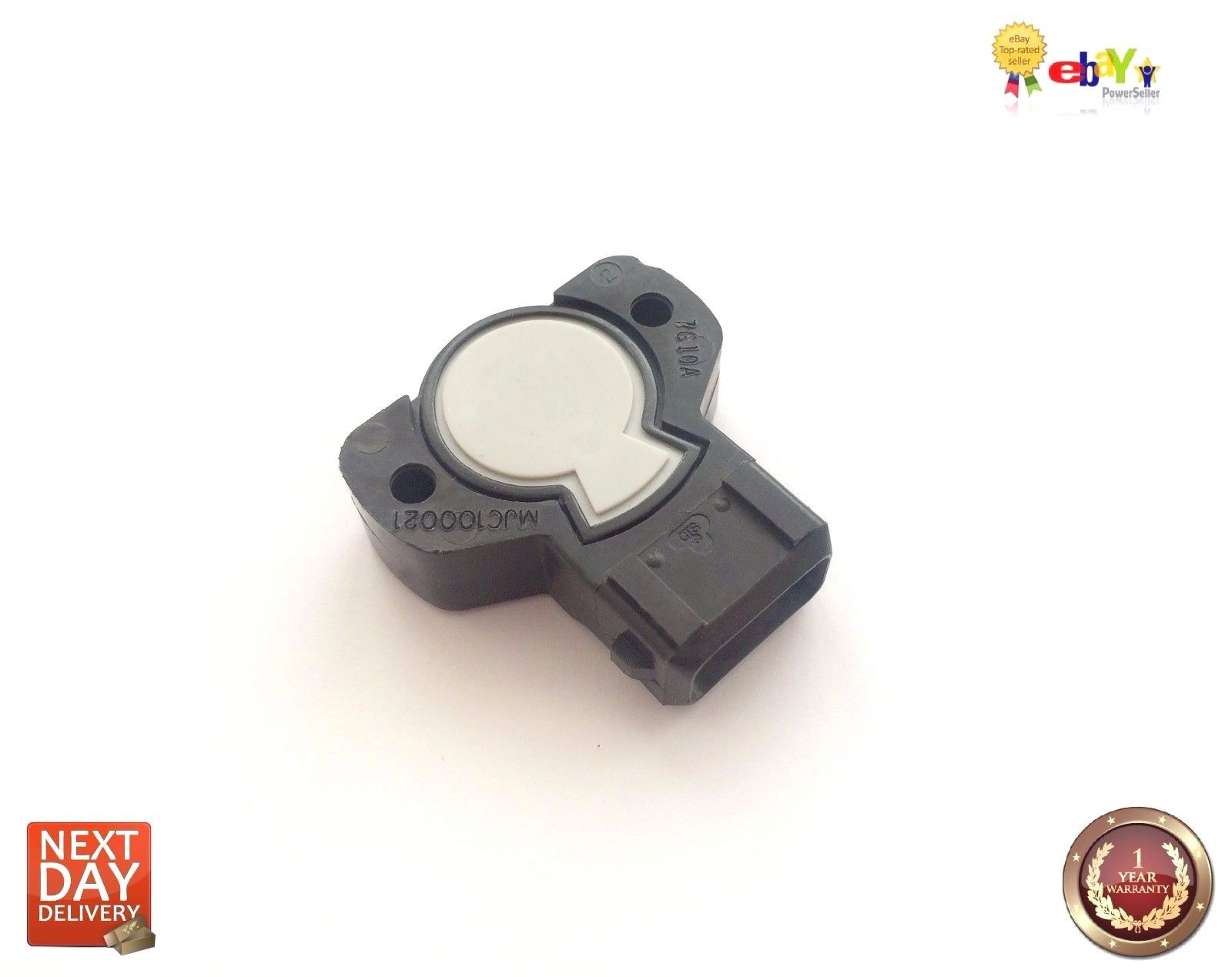 Throttle Pots (4.5 - Blue)
Sierra, Granada or Transit 2.0 DOHC pre 1999
Ford part number 88WF 9B989 CA. Intermotor Part Number 19922. Equivalenet parts: Metzger 090414 (6854781), Pierburg 4.02003.09.0 (6854781), Vemo V25-72-1053 (OEM 6854781), Magneti Marelli 215810605300 (OEM 6854781), Lucas Electrical 50 21374 19079 6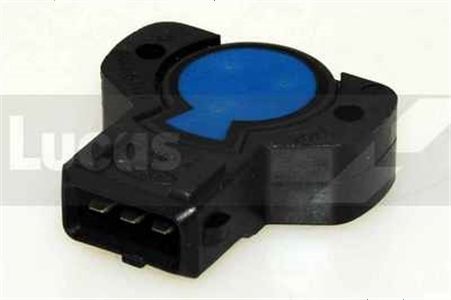 Top ball joint
Saab 99/900 from Elkparts 0870 750 1428 www.elkparts.com
Track Rods
Ford Scorpio
Track Rod Ends
They're Rover SD1 items.

They are slightly shorter than the one taken off my car, but there's plenty of thread on the track rod itself so I think it's okay. Several people, including myself have now fitted these and they are perfect.

The ends are from a Rover SD1.

OE part no.: GSJ149
Quinton Hazell no.: QR1573S
FirstLine: FTR4073
Delphi AP: TA723
Motaquip: VTR123
Powertrain: PSTR19
Sidem: 65230
Swag: 182-300
Veco: VB366
(cross ref' taken from QH sources)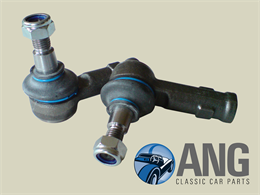 Washer bottle
Mk1 Golf
Window/steering wheel buttons
RS Components
Part number 301-5235
Windscreen wash pipe
Weld liner tube (for Mig welders) makes an ideal replacement, and only £3 from Halfords
Wing mirror Glass
VW Corrado. Drivers side (heated) : Available from VW and Audi dealers for £48
536 857 522 A GLAS-BG EL.PLAN
Wiper motor
MKV Austin Mini but you have to change the gearbox over, not a difficult job. The mini has a 110 degree sweep and the Cerbera 170
or : www.s-v-c.co.uk/ look under wipers they appear not only to do the relevant motor, but spare cables wheel boxes etc.
Updated: I have discovered (through trial and error) that the cerbera windscreen wiper motor is in fact a jaguar XJ6/12 29watt unit, Lucas part no. 60027021A, it fits straight on, gearbox and all.
Wiper motor park switch
Austin Mini
Other Useful Info
Tracking settings (1997 4.2 Cerb)
Camber Degrees - 0.5 to 1.25 negative both front and rear

Caster Degrees - 3.5 to 4.5 positive front (rear n/a)

Toe Minutes - 10 to 20 in, both front and rear.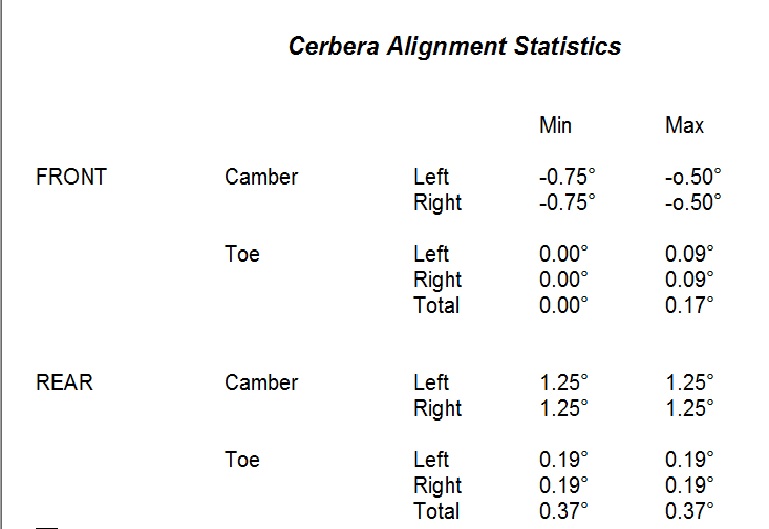 Alarm fob programming
This worked for me - http://www.abacuscaralarms.co.uk/alarms/remote_controls/meta-remotes.html
1 Arm and disarm the alarm sixteen times or until the alarm stops responding, alarm now in program mode.....
2 Once in program mode press the button of the new remotes(s), press the button of the original remote(s). This must be done within 8 seconds of each action. If 8 seconds pass without any actions the alarm will automatically exit programming mode and you will have to start from step 1.
3 Wait 8 seconds to exit learning mode.
4 Test remotes.
Immobiliser key programming
FYI, the sequence is:

* Insert original plinker into hole
* Switch ignition to ACC
* Wait four seconds
* Switch off ignition
* Insert new plinker into hole and hold for 2 seconds

And voila, a newly programmed plinkerette.

FYI, Carl was telling me that the M36 has five "slots" for programming, the first two are used by the originally programmed keys, the 3rd is used for the optional alarm interface, so two spare are available for use. After that you have to get the immobiliser reprogrammed.